A Tribute for a Dear and Beloved Mother
My mother, Mrs. Mary Louise Ross-Huddleston, was a woman of radical and unwavering faith. Her virtue and strength were awesome and captivating. Anyone who met mother would be astounded, after meeting and conversing with her even for the first time!
Mother was a wonderful and great mother who knew her purpose in life. Her knowledge, wisdom and understanding about the Word of God were very inspiring. Her perseverance and dignity were remarkable. Mother exemplified and maintained her character as a virtuous woman who had a meek spirit.
Mother had many gifts of divinity; she loved to play the piano and was the Ministry of Music for several churches. She was a great and powerful public speaker and a "Mother" of the churches that she served. Our mother was strong and courageous! She was also faithful and dedicated, both to God and his church work. If she did not have a car on Sundays, she would start out by "walking to the local church". When a car was available, my brother Alvin would sometimes drive mother to several churches on Sundays.
Mother's life was useful. She worked as an assistant for Head Start as a Teacher's Assistant for The Tunica County School District for several years.
Our mother lived the life that she taught and empowered others to love and be faithful unto the LORD. Her faith was not shaken; even in her weakest moments.
I could not resist in giving her the honor of caring for her, during the last days of her life. The task that I took in caring for her was difficult at times, but God gave me the strength and favor to carry out the vow that I vowed.
I thought about all the love and nurturing that she gave me to help maintain and sustain me throughout my childhood and womanhood years. Mother taught me so many skills that I will forever use each and every day of my life.
I feel that I will never be alone; I will always feel her spirit and presence. Mother was meek, patient, very strong and non-complaining throughout her aging process and illness. Strength and honor were her clothing and she wore them very well. Mother is at peace and God has accepted her in the Royal Priesthood Family of God.
A Special Tribute to Mrs. Shawonda McKay; Chief Executive Officer of Specialty Hospice and her Staff.
Who can find such an awesome and dedicated organization and staff? I can their name is Specialty Hospice. A staff that was fully committed, trustworthy and faithful. A Health Care Provider whom provided effective and proficient care to our beloved mother. One who's care is based on a foundation of Faith, Love and a Gift to Serve. Specialty Hospice was the Angel to my prayers. I heard that day; "Help Is On The Way." We give honor to Shawonda's staff; Dr. Sharma, all Nurses and Nurses Aids; Chaplain's, Social Workers, Office Personnel, Pharmacists and Mobile Care from the beginning of service which started on May 14, 2012 and ended on March 30, 2014.
By each client having their own individuality of needs; Specialty Hospice was able to enhance and augment the client's needs according to their level of care. Each client is given respect.
We give praises to God Almighty. It was God who gave and girded us with strength to serve with momentum and provide excellent care to mother as your patient and me as her daughter-care giver. On behalf of my brothers; Lloyd Huddleston and Alvin Huddleston; myself, Rose Mary Huddleston-Hawkins and my family; daughters, Ayanna, Rasheda, Joyarketta and Henrietta; grandchildren; Joseph, Kiana, Lei'ona and Jakadan and especially my husband Joe; we must say a job well done!
All of Specialty Hospice staff was great. They were very patient with me, because I was very Demanding with Zero Tolerance, but with Balance. There is always a person in whom you become closer to in certain situations. I give Special thanks to Nurse Kathy Taylor, RN, who was there to fulfill my every beckon call. She gave me unwavering support. She went above her calling for me; even during the late nights and responded to all of my phone calls until the morning of mother's passing. Sometimes her husband would accompany her in the night to bring medication or needed supplies for mother.
Our mother was very special to us and also to Specialty Hospice. She was ventilator dependant; therefore her needs were highly skilled. Truly every organization needs finances to function and operate effectively, but I remember that Shawonda told me, when she met my mother and I for the first time. "I will not make a profit, because your mother's skills and equipment are expensive. But I am here to Help You! I am here to provide care to your mother in whatever she needs, because "you" Rose needs help." Those were the greatest words that I could hear that day and at that time. Shawonda's philosophy was focused on mother's needs rather than money.
Special thanks also to Social Worker, Kamesha Harp and Chaplain Scott Wilson, They supported me spiritually, during my lowest and lonely hours. Their printed resources help me to handle the death and grieving process better along with the follow-up phone calls.
Thank you again Mrs. Shawonda McKay and Specialy Hospice Staff. I will never forget you. May God continue to bless each of you and your families. May you be served by an Awesome Organization as were for our Dear and Beloved Mother, Mrs. Mary Louise Ross-Huddleston.
Rose Mary Huddleston-Hawkins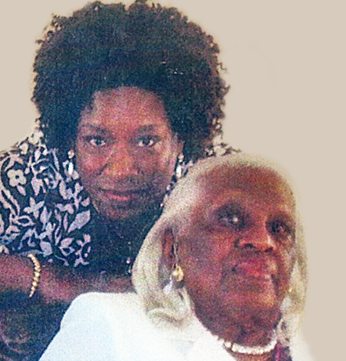 Rose Mary Huddleston-Hawkins and Mrs. Mary Louise Ross-Huddleston